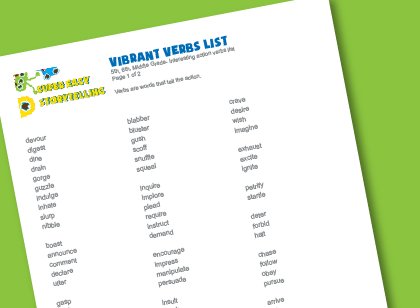 Verbs are words that show action. One interesting action verb can add a lot of detail to a story.

Consider these vibrant verb comparisons:
He said, "Be quiet." or He hissed, "Quiet!"
The cowboy walked in or The cowboy sauntered over
The witch was making or The witch was brewing

These are just a few examples of how strong action verbs help you tell not just what someone is doing. A good verb also shows how and in what manner or style the character is doing something. See our story samples for more vibrant verbs in action.

These action verbs lists for kids make it easier to add more exciting verbs to your creative writing or storytelling.
Interesting Verbs List- For Kids Grades 2, 3, 4
Download the list of action verbs for kids in 2nd, 3rd, 4th grade: PDF Download-- Exciting Verbs List (2nd, 3rd, 4th grade)
chomp
dine
graze
guzzle
munch
slurp

ask
beg
plead
question

hiss
snuffle
squeal
yell
gasp
huff
sigh
snap
whisper

bellow
croak
cry
howl
roar
scream
shout
shriek

boast
command
instruct
reply
teach

build
craft
create
brew
mix
gel

liquefy
dig
burrow
sink

climb
mount
scale

crumple
crush
wreck

close
shut
slam

excite
calm
lull
soothe

enjoy
hope
imagine
listen
aid

cherish
prize
treasure
adore

gaze
look
peek
peer

exit
leave
halt
quit

chase
follow
obey
pursue

float
glide
soar
flow
ooze

race
roll
slide
speed


soak
spatter
speckle
sprinkle
gush

loaf
lounge
nap
snooze
snore

squeeze
jab
poke
smudge
stroke

force
nudge
prod

crawl
creep
march
plod
stride
wander

bolt
dart
dash
run
scurry
skip

fumble
grasp
hold

crave
want
wish

Interesting Verbs List- Grades 5, 6, Middle School
Download the action verbs list for kids in 5th grade, 6th grade and middle school: PDF Download-- Interesting Verbs List (5th, 6th, Middle School)
devour
digest
dine
drain
gorge
guzzle
indulge
inhale
slurp
nibble

boast
announce
comment
declare
utter

gasp
huff
sigh
snap
guffaw
snicker

bellow
holler
howl
lament
shriek
wail

blabber
bluster
gush
scoff
snuffle
squeal

inquire
implore
plead
require
instruct
demand

encourage
impress
manipulate
persuade

insult
leach
neglect
outrage
overrule
pacify

confuse
confound
dazzle
deceive
conceal

crave
desire
wish
imagine

exhaust
excite
ignite

petrify
startle

deter
forbid
halt

chase
follow
obey
pursue

arrive
exit
journey
traverse
venture

ascend
mount
scale
burrow
sink

assault
disarm
cleave
dismantle
corrupt
ruin

craft
create
design
manufacture

gel
liquefy
brew
extract

alter
evolve
modify
morph

enjoy
relish
gloat
wallow

adore
amuse
cherish
treasure
despise
loathe

dwell
occupy

admire
gaze
peek
peer

bargain
deal
plot
conspire

cascade
flow
ooze
spatter
spew
sprinkle
float
glide

cast
catapult
hurl
lob

nudge
prod
jab
poke
smudge
stroke

loaf
lounge
amble
creep
dawdle
lope
stagger

bolt
scurry
flounce
stroll
stride
meander
plod
saunter
stalk
wander