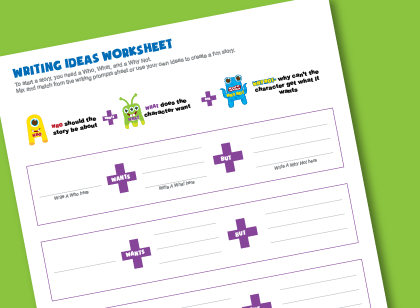 Show kids how easy it can be to create writing ideas. Use our super easy storytelling formula along with this writing ideas worksheet to spark imagination.
How to use the worksheet
Instruct children to create some WHO, WHAT, and WHY NOTs to make story ideas or they can mix and match ideas from these creative writing prompts for kids.

(This worksheet assumes you've explained the super easy storytelling formula. See how to use the easy writing formula here. Teachers, try our free writing lesson plan.)
Download printable worksheet PDF
This PDF can be printed, or type in fillable fields in the PDF for remote learning.
Supporting language arts worksheets