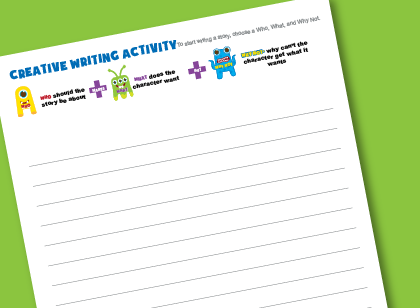 Sometimes getting a story started is the hardest part of creative writing. This worksheet features our super easy storytelling formula on top to help remind kids of their story idea as they start writing. Writing lines fill the rest of the page. Secondary pages with only lines are also included in this printable.
How to use the worksheet
Our simple creative writing formula hovers at the top of the page to remind kids how to break down a story into simpler parts. Remind children to choose a WHO, WHAT, and WHY NOT to get the story started.

(This worksheet assumes you've explained the super easy storytelling formula. See how to use the easy writing formula here. Teachers, try our free writing lesson plan.)
Download printable worksheet PDF
This PDF can be printed, or type in fillable fields in the PDF for remote learning.
Supporting language arts worksheets