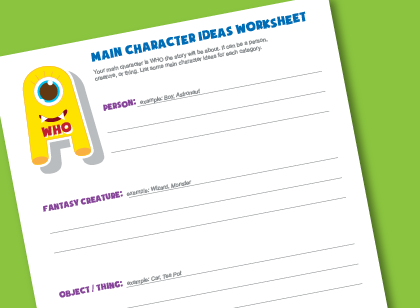 Kids get more excited about writing stories when they realize they can write about the things they are interested in. This language arts worksheet helps kids see the many possibilities for creating a main character.
How to use the worksheet
The worksheet is based on our Super Easy Storytelling Formula. See our simple guide to creating a main character. Explain to children that the main character (we call it the WHO) can be a person, animal, fantasy creature, or an object. Children write in ideas for each category. (Teachers, try our free writing lesson plan.)
Download printable worksheet PDF
This PDF can be printed, or type in fillable fields in the PDF for remote learning.
Supporting language arts worksheets