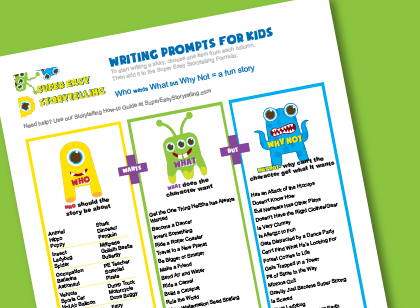 Creating a writing prompt is super easy with these mix and match story ideas. Created for students in 2nd, 3rd, 4th, 5th, and 6th grades, this free printable worksheet helps make creative writing fun! Kids can customize their creative writing prompts to create silly stories that engage their imaginations.
How to use this worksheet
Simply choose an item from each writing prompt column and add it to this super easy story writing formula: WHO + wants WHAT+ but WHY NOT.
Example writing prompt:
A Goliath Beetle (WHO) wants to become a voice impersonator (WHAT), but he has an attack of the hiccups (WHY NOT).
Create countless fun writing prompts from the tables below or print the writing prompts worksheet. Also, try our lesson plans.
Printable creative writing prompts for kids PDF
Related Writing Resources
Creative Writing Prompts for Kids
Printable creative writing prompts for kids PDF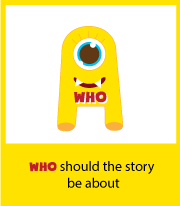 Animal
Hippo
Puppy
Shark
Dinosaur
Penguin
Insect
Ladybug
Spider
Goliath Beetle
Vehicle
Sports Car
Dump Truck
Motorcycle
Occupation
Ballerina
Astronaut
PE Teacher
Scientist
Pirate
Fantasy Creature
Wizard
Unicorn
Fairy
Zombie
Alien
Courtly Person
Knight
Princess
Noble Steed
Object/Thing
Blob of Goo
Bubble
Super Hero's Cape
Robot
Toy
Chess Piece
Doll
Remote Control Car
Box of Crayons
Book
Person
Super Stink Boy
Grandpa
Baby Genius
Student
Viking
Food
Marshmallow
Tater Tot
Meatball
Deep-fried Candy Bar
Plant
Sunflower
Meat-eating Plant
Apple Tree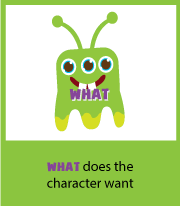 Get what He/She has Always Wanted
Become a Dancer
Invent Something
Ride a Roller Coaster
Travel to a New Planet
Be Bigger or Smaller
Make a Friend
Bend Air and Water
Ride a Camel
Build a Catapult
Rule the World
Win a Watermelon Seed Spitting Contest
Build a New Home
Make Disco Clothes Fashionable Again
Become a Voice Impersonator
Tame a Tazmanian Devil
Save the World
Journey to the Amazon
Enjoy a Very Lazy Day
Bake a Cake
Overcome a Fear of Something
Rescue a Stranded Kitten
Become a Master Chef
Be the Most Amazing of Its Kind
Win a Race
Change from a Bad Guy into a Good Guy
Has an Attack of the Hiccups
Doesn't Know How
Evil Nemesis Has Other Plans
Doesn't Have the Right Clothes/Gear
Is Very Clumsy
Is Allergic to Fun
Gets Distracted by a Dance Party
Can't Find What He's Looking For
Forest Comes to Life
Gets Trapped in a Tower
Pit of Slime In the Way
Minions Quit
Gravity Just Became Super Strong
Is Scared
Giant Ladybug
Space Junk Crashes to Earth
Runaway Train
Epic Water Gun Battle
Grumpy Alligator
Magic Wand is Broken
Can't Get any Respect
Sucked into a Magical Vortex
Internet is Unavailable
Burns in the Sun
Plans Never Work Out Right
Car/Boat/Spaceship is Brokenv
Sample Creative Writing Prompts
Here are some examples of how you can put the prompt elements above together into some fun writing topics.

A baby genius wants to take over the world, but his minions just quit.

A ladybug wants to make disco clothes fashionable again but she has an attack of the hiccups.

An astronaut wants to rescue a kitten from a tree but gravity just became super strong.