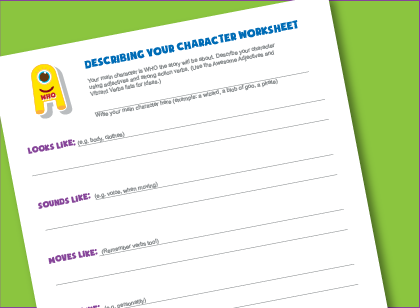 Teach kids how to create a vivid description of their main character. Tap into the five senses to create appearance, personality and more.
How to use the worksheet
The worksheet is based on our Super Easy Storytelling Formula. See our simple guide to describing a main character.

Students write adjectives, verbs, and adverbs that show what their character looks like, sounds like, moves like, feels like, smells like.

Use with our Awesome Adjectives List, Vibrant Verbs List, and Adverbs List.

(Teachers, try our free writing lesson plan.)
Download printable worksheet PDF
This PDF can be printed, or type in fillable fields in the PDF for remote learning.
Supporting language arts worksheets