Welcome to Creative Writing Step 3. If you are here, you've already reviewed our story formula and chosen a story starter (Who + What + Why Not), and you've already described your main character. If not, return to Creative Writing Step 1- Choose your story starter or Creative Writing Step 2- Describe your character.
Writing an exciting story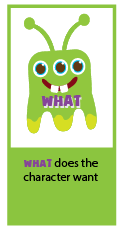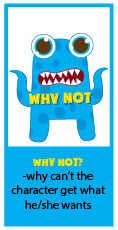 In the last creative writing step, you began the story by introducing your main character and setting the tone for the story. But a good story has a beginning, a middle, and an end--and the middle is where all the action is.

Remember that the plot is What your character wants and Why he can't get it (What + Why Not). When you write in obstacles to the character getting what he wants, the action rises. This is the interesting part that keeps the reader turning pages. You throw in some twists and turns to keep the reader enthralled, and then your character finally has a break through (the climax) and the action can slow down. The action starts to fall as your main character finds some solution to his problems. And that, is "the end" of the story. (See the Rising Action Story Map for a picture of how this rising and falling action works.)
The secret to action is focusing on "What" and "Why not":
Look at your "What + Why Not" from your story starter formula-- what does your story character want and why can't he get it? What could your character do to overcome the obstacles?

The action continues as you character deals with the unexpected obstacles you give him/her. How would he handle each turn of events?-- That's how you write action.

Keep in mind that at some point, you want to write your character a break so the story can end.
Creating Action- See how it works
Let's look at an example to see how you create action from a What + Why Not.
If you need some ideas for more plot twists, revisit the "Why not?" column in our creative writing prompts page. As your character overcomes one obstacle, throw another in his path.

Also try the vibrant verbs list to get ideas on how to make the action more specific and more exciting.
You're ready to write your story!



Teachers:
This creative writing how to guide is available as a printable free creative writing lesson plan. Also, try our worksheets, posters, and other creative writing exercises.